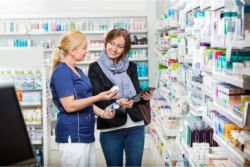 Services
At Pharmacy of Norristown, we offer Retail and Long Term Care services. Aside from that, we also provide immunizations on top of the pharmaceutical products that we offer. When you acquire our products and services, you can be guaranteed that:
Our services are accurate, fast, and well-organized.
Everything that we offer is reasonably priced.
Our services are delivered by knowledgeable pharmacists who are experts at their job.
Our products are high quality – be it a brand name or generic products.
Our products have been proven, tested, and FDA-approved.
If you would like to know more about our services or if you have any questions, get a hold of us by calling 484-231-1014. We would be happy to clarify any inquiries you might have. Medication Services
Prescription Refills and Transfers
Long Term Care Services
Immunizations
Medical Supplies
Medication Adherence
Supplements
Medication Therapy Management
Dispill Multi-Dose Packaging
Multi-Dose Packaging
Medication Synchronization Over The Counter
Pain Medication
Cold and Allergy Medication
Vitamins and Supplements
Oral Health Products
Feminine Hygiene Products
First Aid Items
Cosmetics
School and Office Supplies
Infant Care
Hair Care
Shower and Bath Items
Sunscreen and Bug Spray Cards & Gifts
Home Decor
Greeting Cards
Special Occasion Items
Seasonal Gifts
Kid's Toys
Candles
Gift Cards
Scarves, Purses and Tote Bags